My Blog
Posts for: January, 2020
By Hibbeln & Kowal Dental
January 12, 2020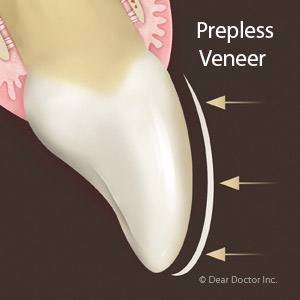 Looking for an affordable way to beautify your smile? The answer could be dental veneers, thin wafers of porcelain bonded to the front of teeth to hide stains, chips or other deformities. Custom-made veneers can look so much like natural teeth in color and shape, it's hard to tell they're there.
To achieve this realism, though, it's usually necessary to alter the tooth first. That's because a veneer can look unnaturally bulky when bonded to an unprepared tooth. To compensate, we often remove a slight amount of surface enamel so that the veneer's width won't be unattractive.
This alteration doesn't harm a tooth as long as it has a veneer or some other restoration to protect any exposed underlayer of dentin. And because the alteration is permanent, the tooth will need a veneer or other protective covering from then on.
In recent years, though, two new options called no-prep or minimal-prep veneers make it possible to avoid or at least decrease the amount of enamel reduction needed. This is possible thanks mainly to improvements in the strength composition of the dental material used in them.
As a result, these veneers are as thin as contact lenses and may only require slight enamel reshaping to smooth out the sides of the teeth for a better fit. And, unlike traditional veneers, you can have them removed and return to your original look without the need for another restoration.
Low prep veneers are best suited for patients with teeth that are small (or appear small), worn, narrow or only slightly stained or misshapen. Someone with oversized teeth, on the other hand, or that jut forward may still need extensive tooth preparation or even orthodontic work beforehand.
If you do meet the criteria, though, you may be able to benefit from low prep veneers. Because there's no tooth preparation, you may not even need local anesthesia. And you can reverse the restoration if you desire without harm to your teeth.
To find out if you might benefit from these new kinds of veneers, see us for an initial dental examination to see if you qualify. It's your first step toward a more beautiful and confident smile.
If you would like more information on no-prep or minimal-prep veneers, please contact us or schedule an appointment for a consultation. You can also learn more about this topic by reading the Dear Doctor magazine article "No-Prep Porcelain Veneers."
By Hibbeln & Kowal Dental
January 02, 2020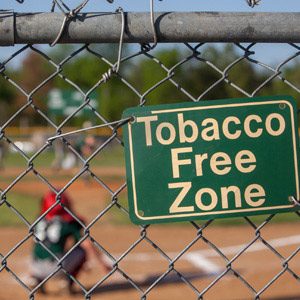 While sports like football, basketball and soccer have exploded in popularity over the last few decades, many Americans still have a soft spot for the granddaddy of them all: baseball. While technology has changed many aspects of the game, many of its endearing traditions live on.
Unfortunately, one baseball tradition isn't so endearing and definitely hazardous to health—tobacco, primarily the smokeless variety. Players and coaches alike, even down to the high school level, have promoted or at least tolerated its use.
But there are signs this particular baseball tradition is losing steam. Not long ago, the San Francisco Giants became the first major league baseball team to prohibit tobacco in its home stadium—on the field as well as in the stands. The move was largely in response to a law passed by the City of San Francisco, but it does illustrate a growing trend to discourage tobacco use in baseball.
While smoking, chewing or dipping tobacco can certainly impact a person's overall health, it can be especially damaging to the teeth, gums and mouth. Our top oral health concern with tobacco is cancer: Research has shown some correlation between tobacco use (especially smokeless) and a higher risk of oral cancer.
You need look no further than the highest ranks of baseball itself to notice a link between tobacco and oral cancer. Although from different eras, Babe Ruth and Tony Gwynn, both avid tobacco users, died from oral cancer. Other players like pitcher Curt Schilling have been diagnosed and treated for oral cancer.
Cancer isn't the only threat tobacco poses to oral health. The nicotine in tobacco can constrict blood vessels in the mouth; this in turn reduces the normal flow of nutrients and disease-fighting immune cells to the teeth and gums. As a result, tobacco users are much more susceptible to contracting tooth decay and gum disease than non-users, and heal more slowly after treatment.
That's why it's important, especially in youth baseball, to discourage tobacco use on the field. While most of baseball's traditions are worthy of preservation, the chapter on tobacco needs to close.
If you would like more information on the oral health effects of tobacco, please contact us or schedule an appointment for a consultation.